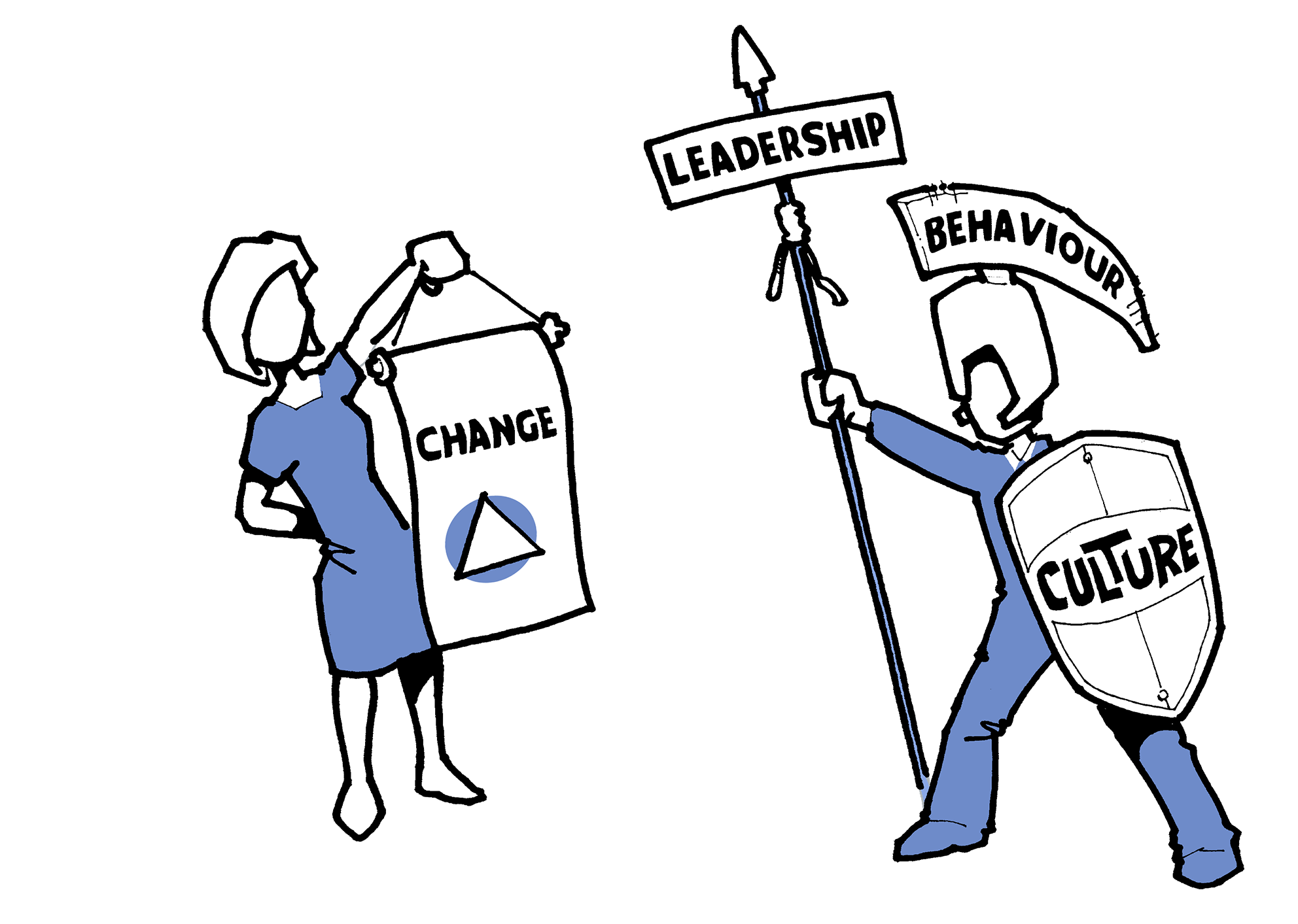 A quick google search reveals lots of articles describing cultural resistance being one of the main barriers to successful change and transformation. For example, in 2021, Harvard Business Review1 reported: "Change resistant managers anticipate that their C-suite leadership will largely revert to the behaviors they demonstrated before the pandemic… Almost a third of the people closest to the C-suite are either Change Resistant or Disaffected – and the same is true for about one-fourth of middle management… What CEOs and their teams have to recognize is that the executives working under them cannot be relied upon to fall into line and embrace calls for change based on new and urgent priorities".        
Is the concept of cultural resistance thwarting organisational change new, or is it simply a case of déjà vu?
Back in 1980, Peter Keen wrote in his paper 'Information Systems and Organisational Change'2,"Many writers on implementation stress the homeostatic behaviour of organizations and the need to "unfreeze the status quo" … We now have adequate theories of implementation. We have less understanding of counterimplementation … overt moves, often made by skilled actors, to prevent a disruption of the status quo."
It is worth noting here that Peter Keen has been ranked as one of the world's top 100 thought-leaders in business and is one of the most cited researchers in academic and business literature. Yet the problems he highlighted over 40 years ago still exist, and today are reported as revelatory news. It is almost as though we have learnt nothing from our experience!
Some conventional leaders attempting to introduce change into their organisations, such as new technology or new ways of working, recognise the risk of concerted resistance from within. They attempt to address this resistance by shifting mindsets and culture through cultural change programs, leadership training, and communication strategies. Although born from plausible-sounding ideas, these 'solutions' inevitably fall short. They disappear without trace, or worse, are replaced by increased cynicism about any benefits accruing from innovation and change.
Progressive leaders recognise the reason for this repeated failure is that each 'solution' did not address the fundamental issues of creating a shift in organisational behaviour and leadership capability.  
Our approach to solving these issues is based upon sound theory and practical method. What we know is that for a person to change their behaviour, they must:  
experience dissonance, where their expectations or predictions are challenged, and disturbance is created;

have a sense that the change will be of benefit – to them, the organisation and customers; and

have a sense that they are part of the change. It is not "rolled out" or "done to" them.

Instead of the usual cultural change programs, leadership training, and communication strategies, overcoming cultural resistance requires the application of a different philosophy. It must ensure that those involved in change and the leaders at all levels of the organisation:  
understand how people experience their work, their leader and the organisation. Continuously and systematically;

have a clear understanding of shared mythologies underpinning existing organisational culture;

consistently use positive leadership behaviour and symbolism to create effective ways for people to work together;


form a positive productive culture through every single interaction.
Sustainable positive behaviour and culture results. Resistance is no longer prevalent, and mindsets grow and adapt.
Let's learn from the past and not repeat the same mistakes. No more déjà vu!

---
Subscribe for latest articles
If you'd like to read our latest articles then we can send them to you each time they are published. Please subscribe below.
Download article
This site is protected by reCAPTCHA and the Google Privacy Policy and Terms of Service apply.

---
Are Your Managers in Sync with Your Change Strategy? by Joseph Fuller and Bill Theofilou, Harvard Business Review hbr.org/2021/03/are-your-managers-in-sync-with-your-change-strategy ↩

Keen, Peter G. W., 1979. "Information systems and organizational change," Working papers 1087-79. Report (Alfred P, Massachusetts Institute of Technology (MIT), Sloan School of Management. ↩